Some people are thinking about taking kitesurfing lessons this summer. Enter our website and in our blog, discover the guarantee of success of Kitesurfing Club Mallorca.

At the beginning of July we received a new member among our non-profit kite club, Asociacion Aprende a Navegar. The goal of our club is to make things easier for our members so that, whether they are complete beginners or they already have some notions about our sport, kitesurfing, they can advance on their progression in the safest conditions and with the lowest possible economic cost.

Kitesurfing Club Mallorca

In the case of this entry to our kite blog, the name of our new associate is Sotero. Our new friend is a 21 year old guy, of Cantabrian origin, resident in Mallorca.  Sotero is an sportive guy with some knowledge of surfing.
Our new friend opted for the 3 hours of kite lessons which are included in his membership fee on ASOCIACION APRENDE A NAVEGAR and from the very beginning he showed an early progression and a good understanding of the topics he were taught.
On a light south wind day with wind conditions between 8 and 12 knots, Sotero easily got up on the kiteboard after following the instructions of his kitesurf instructor and with good control of the kite, he himself achieved his first waterstart after the first 6 hours of his training.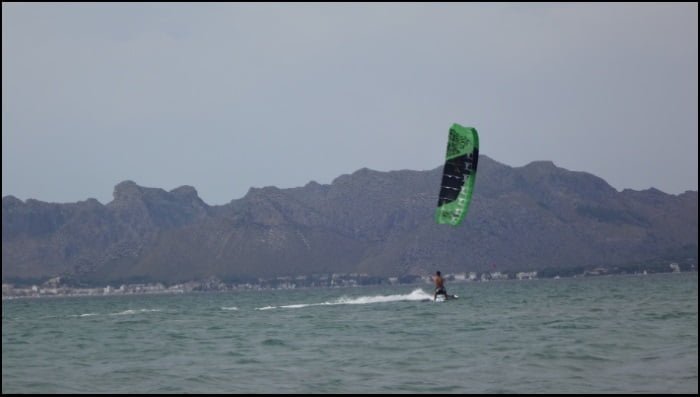 Thanks to the photos uploaded on this blog entry we can see how Sotero successfully starts his first waterstart, getting up on the kiteboard and riding several hundred meters in both directions.
The equipment used during the kite lessons were a kite of the German brand Flysurfer, Peak model of 12 mts and a kitesurfing board model Flysurfer XL
It is comforting to see how in his second day of lessons and without any prior knowledge of kitesurfing our new partner has been able to synthesize and achieve his goal. Congratulations Sotero, we wish you all the success in your future kitesurfing navigations.