Light wind days kite lessons in Mallorca. Danske kite studerende Mallorca kiteschool.
Last month we received a young couple from Denmark, they contacted us via WhatsApp one week prior to their arrival and they chosed to become members of the Kite club Asociacion Aprende a Navegar.
Our danish friends once they became a kite club members of Asociacion Aprende a Navegar they took a 3 day kite lesson which the first 3 hours of lessons are included in the membership fee.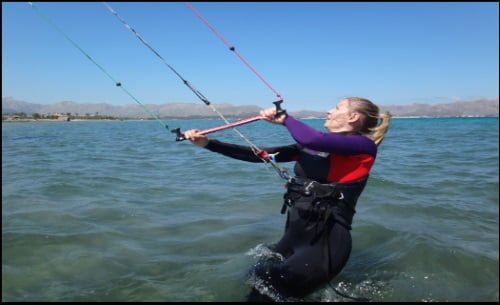 In the first 3 hours they passed through the theory part and 2h 45 minutes of practices in shallow water with differnt kites of various sizes.
Both of them had a great time, enjoying their kite lessons and performed very well from the early stages of their training and, on the second day of it, the guy started with his first waterstarts.
It should be noticed that there were three really light wind days but thanks to our extra light kite equipment we could have the kite lessons in spite of the poor wind conditions.
Through the pictures of this blog entry we will see both of them starting the kite lessons, progressing with ease and standing up on the kiteboard.
The equipment used during their -light wind days kite lessons- was a Flysurfer kite, Peak model of 12 mts size and the kiteboad, a Flysurfer XL model.
We are very proud to see how our danish kite students performed quite well and took good advantage of their kite holidays in Alcudia.
We wish to have them back with us next summer.