During the first years of the Asociacion Aprende a Navegar/Kitesurfing Mallorca Kiteschool, there were several extracurricular activities and kitesurfing lessons for children in Mallorca – kitesurf basic course – with different schools in the municipalities of Palma, Pollensa and Alcudia
Kitesurfing lessons for children
In the Association Aprende a Navegar/ Kitesurfing Mallorca kiteschool we specialize in lessons with children.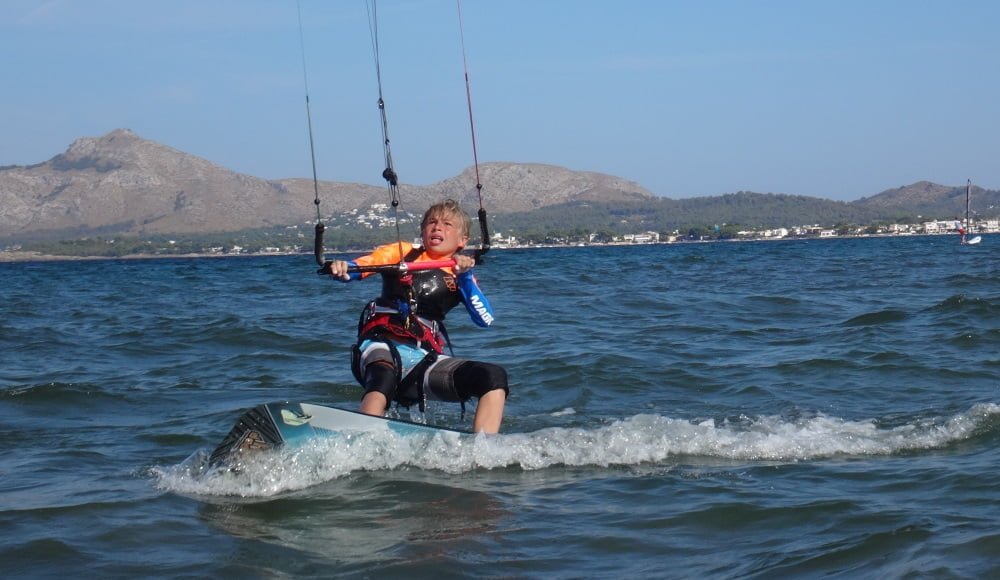 We use special kites that avoid any unnecessary risk while facilitating the learning of the little ones.
In the following links we can have more information about our kitesurfing team, our kite students and kite equipment.
TALKS ABOUT KITESURFING IN MALLORCA
Some of these activities began with scheduled talks and even interviews in local television to inform and interest young people of different ages in the practice of kitesurfing
KITESURF PRACTICES
WITH CHILDREN
Sometimes, practice with the kite took place with children from 5 to 8 years of age, which is an interesting option to interest them in the sport in a funny way
Asociacion Aprende a Navegar
The Asociacion Aprende a Navegar kite-club as manager of this initiative, has resumed these kitesurf lessons in collaboration with the secondary schools of the island
If you are interested in our activities and want to interest your children in the nautical sports, do not hesitate. No need to wait for summer holidays, any time is good to bring children to the sport and provide them with new opportunities to socialize and discover new attractive hobbies.
This, certainly will make our young people find fun in kitesurfing, ans a source of physical activity in an sport that will offer them new perspectives and an alternative of motivation and healthy life.
We wait for you!
Practices of Kitesurfing
in the Bay of Pollensa
On several occasions the age of the participants was between 13 and 18 years
The practices of kitesurfing on the beach and in the water always took place in the Bay of Pollensa
The success of these kitesurfing lessons was remarkable and today there are several new practitioners among our young crew.
If you want your children to learn a sport in which camaraderie and healthy life are the bases of our activity, contact us
At the bottom of the page you have the contact details with our School / Kite-club

CONTACT