Yes, indeed, perhaps it may sound pretentious and biased, I am sorry about it. Why then, state that this or that kite may be the best kite for Mallorca? Well, no wonder about it. Mallorca it is not a very windy place. Therefore, let's just keep in mind that heavy tube kites are not going to have the same chances of succeeding.

That is a fact, though if … on our island there is not much wind, there's something that deserves to be remarked: There may be not a lot of wind in Mallorca but there is wind 90 percent of days, at least during the "good wind season" which is from March until mid/end of September.
Said so, if one has the right equipment, should certainly be able to kitesurf almost every single day. And that said, there's a last couple of remarks.
The thing about the best kite includes another couple of features. It is not just that they are best kites for the given wind conditions in Mallorca but they also have other very relevant qualities: they do not break, or better said, they very seldom break.
and they do not leave you down because of a faulty valve or a leak in the bladder … because they have not valves neither bladders to explode or get punctured, neither you do not have to break your back pumping them.
If you add to all that the fact that in light winds, due to their light weight and thanks to the stuff of which are built, Flysurfer foil kites perform great.
In almost not wind at all you manage to have a good -or an acceptable kite session- where otherwise there would be no session at all. Which tube kite can beat all that?
Kitesurfing in Pollensa Bay – Mallorca
in September
Let's continue that blog entry with one more example of how Flysurfer kite foils excel in light wind conditions.
After what was the three-day break without any wind at the end of last week, it seemed our thermals started to be part of the history, on the other hand, something rather expectable for that time of the year, considering that we are already on the third week of September.
Photos were taken last Monday, which we may declare as the last thermal wind of this year.
To start the day, notice the curious "almost smoke" – low cloud – that suddenly took the bay of Pollensa in its earliest hours and that at some point it almost reached the shore
After a couple of hours of no wind at all, the first thermal breeze arrived and the wind intensity got up to 14 knots from 13h on, for more than three hours, to, finally die, slowly and gradually.
The algae beach of Sa Marina began to awake as the word spreaded that the thermal, after a 3 days break had reappeared and an early and eager crew of kiters started pumping their 14 and 12 meters kites, taking the waters happily minutes after.
The wind direction of NNE / NE, constant wind and not gusty.
After three hours, as expected at the end of summer, the breeze began to fall, so that the fleet of kiters began discreetly to retreat to the shore, especially all those who were riding with small size boards.
On the other hand, as it usually happens, after a while, the wind went yet a bit more down for the second time, and an hour later, intermittently, with some agonic ups and downs, the wind almost failed at all.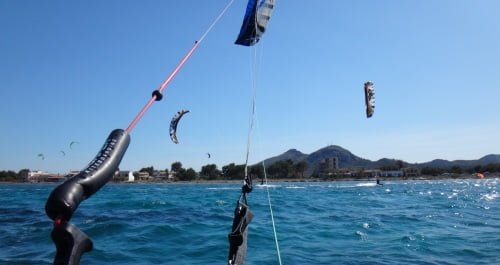 In fact, what really happened was that all the fellow kiters riding on small boards were the first to be taken off the scene, next, all the kiters trying to ride on their 12 meters tube kites, and, as always, those riding the Flysurfer foils, continued their kitesurfing session one more hour to say the less.
And there ended the thin, a late delightful ride, a gift of the last part of September, in what it will become only a memory … that of the summer thermals of 2017 and until next mid/end March where our beloved thermals will blow again.
PHOTOS KITE IN UNFORGIVING END OF  SEPTEMBER
OR THE FALL OF THE THERMAL BECAUSE  SUMMER HAS FINISHED