Is it really possible to learn kitesurfing in 2 or 3 days?
Here is an interesting question. Which would be the right answer?


Our kitesurfing school in Pollensa Bay – Mallorca
Ok. Here we are … Pollensa Bay, let's say April, by instance … 11 am.  Let's see, calm and quietly:
Which is the right amount of wind, the ideal wind force to learn kitesurfing? …  Some will say, at least 15 or 20 knots.  With less than that you won't stand up on your board.  Is this true?
I am afraid not. This is a false predicament. In fact to stand up on your board it is a matter of several things which all together will make you achieve it or not.   Let's say: size of your kite, type of kite, wind force, of course and size of your board.
By playing with the different variables which this issues offer, we will have a better idea of what is to stand on the board and start riding.
One thing is more that certain: too much wind is equal to disaster.   You won't understand anything, all will happen so fast and aggressively that gaining the minimum control of the kite will be an impossible task but … there you go!
You will easily witness all this fellow students, not far from you, while they are taking their kitesurfing lessons and practices with other kitesurfing schools, using their tube inflatable heavy kites and trying the impossible.
That is: making them fly in the light morning breeze, while what they are achieving is crashing them continuously or just witnessing them fall in the water …  and giving their life away in order to relaunch the "too heavy tube kite for the given wind force"  back in the air again.    Hey! … this are not just words, this are facts!   Just come to the teaching area and see by yourself …
In short, too much wind, evidently, will put yourself at risk.   It will easily damage the kite equipment and in any case, you will understand nothing because things happens so fast that you will be absolutely overwhelmed.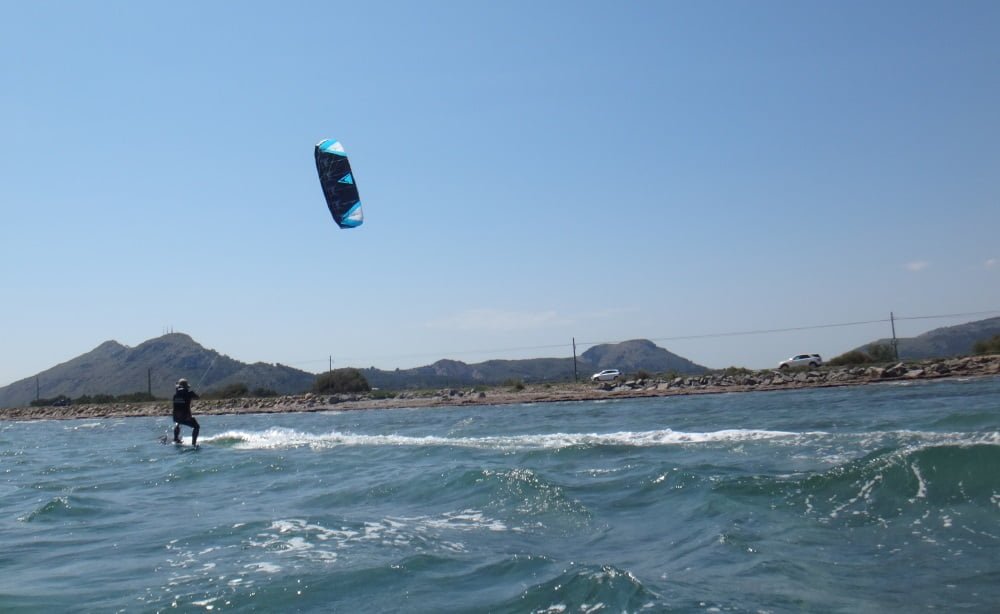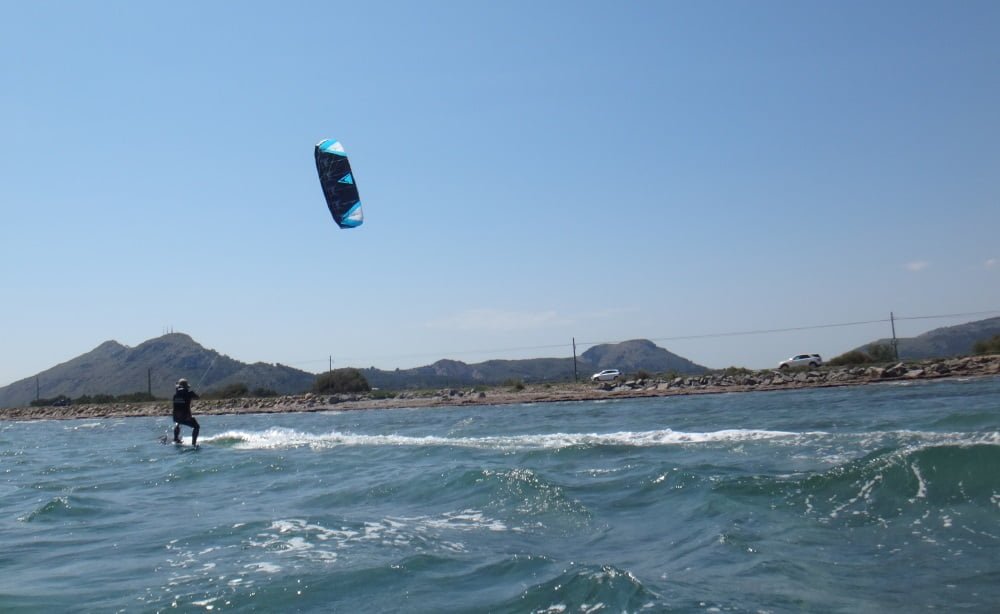 As important as the right wind force is the right kite spot.  A wavy spot and/or deep water will complicate things very much.  Making almost impossible to control the kite when waves are crashing against you.  And deep water will provoque you to lose control of the kite as you will have no balance, complicating the practices to a point in which the chances to be able to stand on the board and ride are equal to almost 0
Equipment … to have the right equipment will simplify things highly.  Never underestimate the power of a kite, a small kite will not make things easier.
A small kite acts somehow as a whip, it will be very hard to control, also it will move too fast for you to be able to dose the tension on the kite lines.
In the next photos and video we will see our kite club member Ron how he position himself on the kiteboard, how waterstart, how he gains distance and how he's able to return to the starting point
Want to learn kitesurfing in Mallorca?
The kite, this day was a 9 mts Peak Flysurfer, a special easy to handle kite type which is indestructible, it flyes in the lightest breeze and will put you up in the board and riding once you have understood the right technique.
All of this is what this entry in our blog was about, to learn properly, by professional teachers and putting the risk of getting hurt, hurting others or damage something simply out of the equation.
The board a Flysurfer XL 170×50 cms
We are waiting for you in our non profit registered kite-club Asociacion Aprende a Navegar
our kite club and www.mallorcakiteschool.com/ www.kitesurfingmallorca.com our kite schools.
Learn kitesurfing in Mallorca with the best
Do you want to learn kitesurfing in Mallorca or Vung Tau?
Book your course here at the best price

To contact the school click here